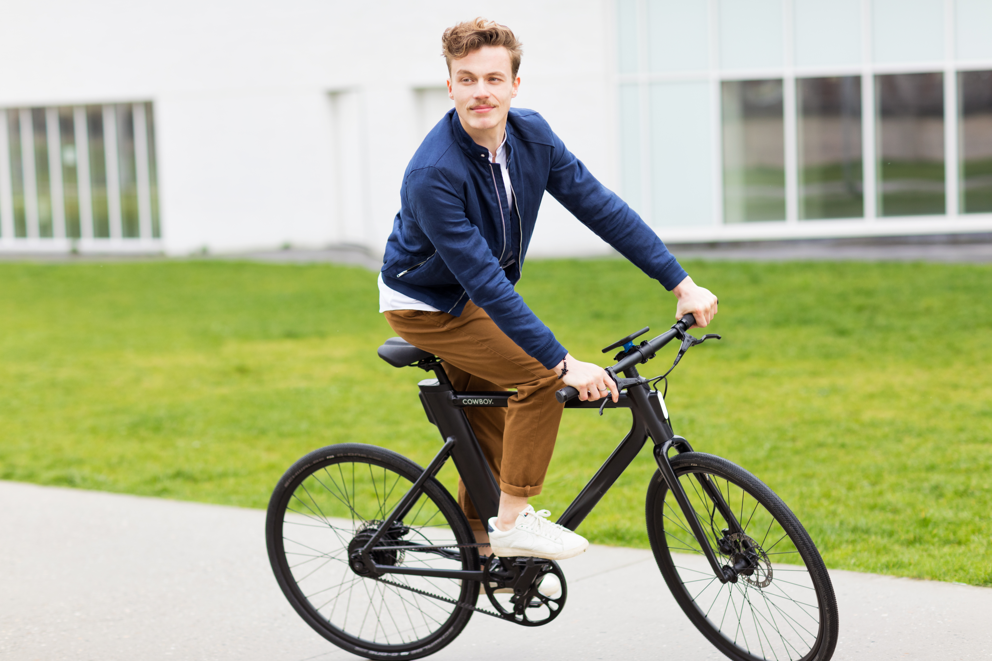 Cowboy reinvents the electric bike and raises $3 million to transform urban mobility
Round led by Index Ventures, backers of Aurora, Bird and Drivy
Cowboy reinvents the urban bike through superior design & technology
A booming market, with 21 million bikes sold in Europe annually
Cowboy launches today in Belgium, Europe's third largest market
​
Brussels, 24th April 2018 – Cowboy, start-up that developed an innovative electric bike for the modern-day commuter, is launching in Belgium today, Europe's third largest cycling market. The company is also announcing that it has raised $3 million in a Seed round led by Index Ventures, alongside Hardware Club and Kima Ventures.
With electric bikes traditionally viewed as expensive, cumbersome and poorly designed, Brussels-based Cowboy is reinventing the category by blending design elegance with affordability and technology that connects owners to their bikes through a mobile app, featuring a secure key, live stats, and GPS tracking.
Cowboy was founded in January 2017 by three experienced entrepreneurs: Adrien Roose and Karim Slaoui formerly co-founded Take Eat Easy, where they were CEO and COO respectively, while Tanguy Goretti was co-founder and CTO of ridesharing and carpooling startup Djump.
In Belgium, 45% of new bikes purchased are electric and demand for electric bikes is surging. Twenty-one million bikes are sold annually in Europe alone. ​ The team founded the company to spur mass adoption of 'ped-elec' bikes, with the goal of easing congestion and making commuting in Europe's cities smarter and more enjoyable.
"We designed the Cowboy bike to appeal specifically to people who are yet to be convinced that electric bikes are a practical and mainstream mode of transport," says Adrien Roose, Cowboy's CEO. "We focused our attention on the three main reasons people are reluctant to purchase electric bikes: high cost, poor design and redundant technology – or a combination of the above – and we set about fixing them all.
"Today we have a bike that is not only exciting to ride – with intuitive and automatic motor assistance – but safe – with integrated front, rear and brake lights – secure, connected, beautifully and sleekly designed and one of the lightest urban electric bikes on the market."

​Cowboy – whose vehicles go on sale today in Belgium - was an award-winner at the prestigious EuroBike trade fair in July 2017, due to its "cool design", light weight and value for money. After launching in their home market, the team plan to use the investment to roll out their product to other European markets early next year.
"A confluence of trends means that transportation is on the brink of once-in-a-generation change," says Martin Mignot, Partner at Index Ventures. "Batteries, sensors and motors are becoming cheaper, lighter and more efficient, car ownership is no longer something to which everyone aspires, and major European cities such as Paris, Amsterdam, Brussels and London have invested heavily in cycling infrastructure.
​
"Cowboy are riding ahead of this wave in building a vehicle so smart, beautiful and convenient that we believe it will ultimately become category-defining. We only had to ride it once to decide to invest on the spot," he says.

​Additional investors include Thibaud Elziere (eFounders), Bertrand Jelensperger (LaFourchette), Harold Mechelynck (Ogone), Frederic Potter (Netatmo) and Francis Nappez (BlaBlaCar).
Why become a Cowboy?
Move around your city easily without breaking a sweat. Cowboy makes every trip enjoyable and efficient.
The intelligent motor-assistance system has built-in sensor technology, measuring speed and torque. This technology adjusts intuitively to pedalling style and force, delivering an added boost of motor-assisted speed at key moments: when you start pedalling, when you accelerate, or go uphill.
A battery that gives riders the freedom to roam for 50km, and takes just 2.5 hours to fully charge. This battery is integrated into the frame under the saddle and is easily removable.
Alongside design and efficiency, safety is Cowboy's top priority. The electric bike has integrated front and rear lights, as well as a built-in brake light that lights up when the hydraulic brakes are used.
The bike and battery together weigh in at 16kg, which makes this Cowboy one of the lightest electric bikes on the market.
The Cowboy app has on-board navigation so commuters can get to their destination even faster and more easily, an on/off button so only the rightful owner can unlock their bike and a data dashboard that, among other things, tracks speed.
About Cowboy
Cowboy is a Belgian start-up that developed an innovative electric bike for the modern-day commuter. Cowboy's ambition is to improve the mobility in cities, and for people to get to their destination in a more efficient, yet enjoyable way. The electric bike weighs only 16kg, has integrated front, rear and stop lights, and hydraulic brakes. Cowboy also developed an app that turns the bike into a fully connected object, with functions such as: navigation, on/off button and a data dashboard. Cowboy was founded in 2017 by Adrien Roose, Karim Slaoui and Tanguy Goretti, and is located in Brussels, Belgium.
Product specifications:
Battery: 252 Wh, 1,7 kg
​Battery's charge-time: 2,5h
​Autonomy: up to 50 km
​Measurements: stack - 550 mm / reach - 380 mm / Seat tube - 580 mm / Top tube - 548 mm
​Weight: 16 kg (battery inclusive)
Cowboy's electric bike is for sale starting April 19 2018 via their website: www.cowboy.bike.
Follow Cowboy on Instagram @Cowboy_HQ, on Twitter via @Cowboy_HQ, on Facebook @CowboyHQ or for more info go to www.cowboy.bike.
For more information, interviews, imagery or other requests we ask you to contact:
Manon Acke
​T: ​ +32 (0) 470 18 76 83
​E: [email protected]